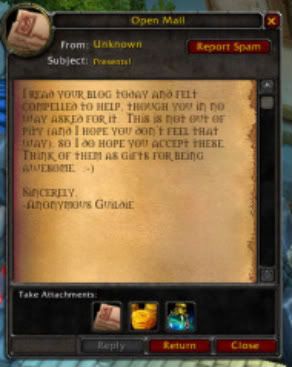 After posting my last blog entry, I logged into the game later on. I had mail from "unknown", so at first I thought it was a bot for a gold site. Imagine my surprise when I see that it's from a guildmate of mine and contained 6 flasks and a chunk of gold.
However, this person went to the trouble of making a level one alt, and then deleting it so that I didn't know who sent the care package.
If my boyfriend wasn't around while I was looking at it, I would have been crying. It's a small thing, to give someone something from within a game, but to me it was a big deal.
Today, a similar thing happened where I had mail from a guild member (name included this time). This person sent me a wrapped gift, and when I opened it the Darkmoon Card: Tsunami was in it. As if one gift wasn't enough to set me off, this one was definitely worth a couple of tears.
I feel lucky to be in a guild where the people care this much. To those two guildmates who sent me the mail, thank you. You don't know how much it means to me, even though it's all pixels.