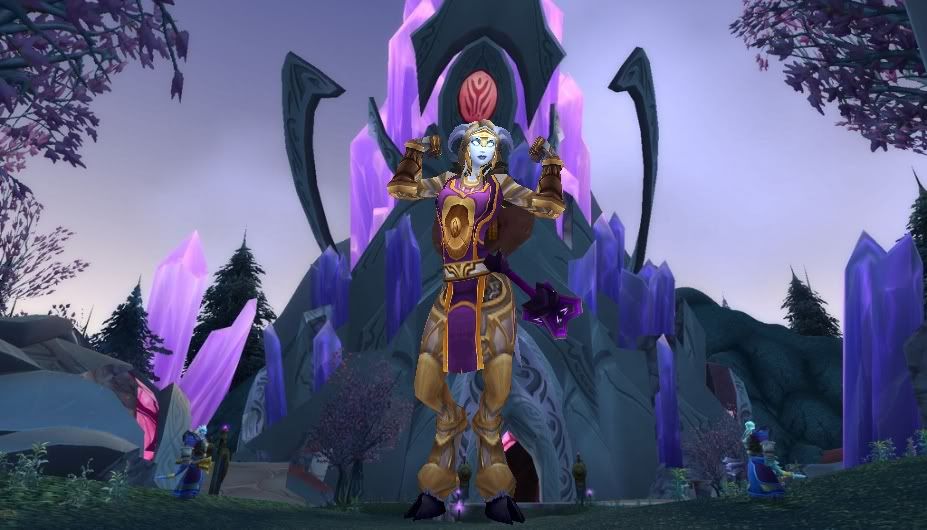 A familiar face to many, the Exodar flagbearer was pictured on WoWInsider just weeks before the competition!
All good things must come to an end, and with the event of the summer nearing its closing ceremonies, the athletes of the Exodar will strut their stuff one last time. I had a wonderful time creating all of these outfits, and I'm excited to finally be able to reveal them (without the anonymity).
I worked hard to put together some outfits that I thought were great and fit the themes really well - this competition really got the creative part of me working in overdrive. Hats off to JD and the judges for all their hard work!
Check the links to see the actual event posts!
Cycling
,
Hammer Throw
,
Discus
,
Wrestling
,
Archery
,
Javelin
,
Equestrian
,
Freestyle
, and
Fencing
.
Cycling (matching the Mechano-Hog):
When I think of ladies in a biker gang, I think leather, goggles, and studded shoulders.
I tried to go with a red and black theme to keep with matching the Horde version of the Chopper. I also included two Bloody Brass Knuckles because this lady means business.
Check out her gear set here!
Hammer Throw
I agonized over this set. I couldn't decide if I wanted to go with more purple or if I wanted the mace to stand on its own.
In the end I went with a grey/purple scheme and I really like the way it turned out. I think if I had to do it over I'd pick a more purple-y set of boots.
Check out her gear set here!
Restricted to Paladins: Shoulders are Heroic tier.
Discus
In the end, this set didn't place at all and I can't help but wonder if the judges don't like all the dwarf skin.
Check out her gear set here!
Wrestling
I found this great belt and lo and behold there were matching bracers! Since we weren't going the traditional Olympic style I thought this was perfect.
This Tauren is ready to ruuuuummmmmble!
Check out his gear set here!
Archery
Check out her gear set here!
Javelin
I came super close to the podium on this event at 382 compared to the winner's 387!
Check out her gear here!
Equestrian
I chose to match an outfit to the Baradin Wardens Spectral Horse.
I'm pleased with the icy blue look I achieved and I think it matches that horse really well.
Check out her gear set here!
Freestyle
This lady is trying to explain to these people that time is money, and they're wasting hers.
Check out her gear set here!
Fencing
I chose a fiery sword, and matched elements in her outfit to the fire theme.
Check out her gear set here!
In the end, none of my sets gained any medals but my Javelin set came the closest. I'm a little disappointed, and I have some disagreements (for sets that weren't even mine!). Overall this was an excellent transmog event to participate in and I had an absolute blast creating everything.
I really enjoyed participating in this, and I hope that I can find some more Transmog events to try my luck at. It's hard enough competing in an event such as the Transmogolympics, but it's another thing entirely to organize and judge the entrants. Thanks again to JD at
Amateur Azerothian
, Tome at
Tome of the Ancient
, Matty at
Sugar & Blood
and Khizzara at
Blog of the Treant
.