It's hard to believe it's already been two weeks since we were all gearing up for the excitement that is BlizzCon. I was wiling the hours away at work, checking the Meeting Stone forums and official site for something - anything! - to distract me from what I was doing. Now I'm grasping at straws for a way to get back to that feeling of shared happiness and belonging that I felt in Anaheim. I think that's the best thing about BlizzCon, it's unlike any other convention because everyone who came to this event is passionate about Blizzard games. You can have conversations with complete strangers about WoW/SC/Diablo and not get a confused look back. There were so many people to talk to and meet that when you come back there's this sort of... recovery time or recharge period, because suddenly you're at home not surrounded by thousands and thousands of people. Now that I've decompressed, I wanted to record my experiences and share them with all of you!
Our trip began on Wednesday. I took the day off so that I could pack and get things sorted out with the people who were going to babysit my kitties. I picked up my friend Sara (@SerrinneWoW) in the afternoon and she and I waited for my boyfriend Brian (@Chronis_) to be finished at work before we left. We drove out and picked up another guildmate, Andy (@Slout_ET) before we really started the drive to Buffalo. Let me tell you, if you need to get across the border quickly bring Chronis. I don't know if it's that Cape Bretoner charm or what but he didn't have his passport signed and we still got through the border in under two minutes.
It was so dark so we didn't see much of the scenery (although, it's Buffalo so we probably didn't miss much), but we got to our hotel safely and decided to get some dinner. We ate at this hot dog place called
Ted's Hot Dogs
because a) DONGERS and b) they have gluten free buns! They even changed gloves while handling my food so that was a welcome relief.
With our bellies full and the realization that we were so close, we all hit the hay and dreamed BlizzCon dreams.
Thursday:
In order to get to Anaheim, we flew out from Buffalo to Cleveland and then Cleveland to LAX. This was a pretty boring day since it was pretty much all travel but I'm going to mention the shuttle service we used. We booked through Karmel Shuttles. We had our confirmation numbers ready but we were told we didn't need to stand anywhere specific - just flag down our shuttle. We were given a number to look for on the shuttle. We must have seen a few shuttles go by with similar numbers so we called again and confirmed the number. So we waited. And waited. On the final call we made (after an hour) the rep told us that our shuttle number was actually different. So that shuttle that had been circling around and around.... and around... and around... was OURS. Naturally we were upset but thankfully we got into a shuttle of folks just as excited about BlizzCon as we were so the wait and the frustration was soon forgotten.
Traffic was terrible, but we made it to the Sheraton Park Hotel and as we stepped out of the car we saw Colin (@Jacklalanne) who was to room with Chronis and I (See his
blog post here
). This guy had been through hell and back to get here so I was so happy to finally meet him in person and see him in Anaheim. We met Mike (@grumdy) soon after and then our little group headed our separate ways to check in.
After checking in, I wanted to get our tickets so we ended up foregoing the WoWInsider/WoWHead party (which, we heard later was awesome but the line to get in was loooooong). We nipped over to the Hilton for a little while and met a few more of our guildmates. I could see so many shirts with names on them (like, I saw Derevka from far away but I never introduced myself because DEREVKA) so I was so glad we managed to make up our own guild shirts.
As I was sitting there chatting with my guildies, I felt two hands come down on my shoulders so I turned around but I didn't know who it was! Mysterious shoulder person went away to change and when he left Sara tells me that was ARIELLE. GAH. I quickly met Esoth while he was on his way to hug Sara, too! Arielle (@arielleEJ) came back and we got a proper meeting and I tried not be too overbearing (BEARing) but this person is someone I've talked to regularly on Twitter about Mass Effect and bear things and he's one of two people who are the reason I tank as a bear (Reesi being the other). Needless to say I was really excited. He mentioned that Reesi would be around the next day and I then I was even MORE excited. I was worried that I would be too excited and just barf words all over her when I met her so to stem the risk of psyching myself out I just put that in the back of my mind for now.
Because it was November 7th, it happened to be N7 Day. Before this Arielle and I had decided we would do the N7 toast from Mass Effect 3. We ordered our jagerbombs - PS those shot glasses were HUGE and there definitely was not enough Red Bull - and split the lines 50/50 and fulfilled a (months long) goal for both of us.
We stayed for a little longer and saw some members of Business Time (Chronis' other guild, haha) and when Rhidach (@rhidach) and Chronis met it was like the sky opened and hallelujahs were sung. Rhidach is probably who Chronis was most excited to meet this whole time, so it was so great to see them get to talk face to face.
Friday - DAY ONE:
WTB instant tank queue to the front please?
Finally! Chronis, Jack and I enjoyed a breakfast at Denny's before heading out to stand in line. But when we got there it wasn't really a line so much as a blob of people. We ended up having a bunch of guildmates make their way to us in the line. We all sat together for the opening ceremonies and subsequent WoW Panels, and it was really great to share in everyone's excitement for the coming expansion.
They announced a LOT of stuff. Like, so much stuff I couldn't remember it all but there were a few things that stood out; Garrisons, raid size changes (Normal/Heroic/Mythic) and of course the new race models. I had my mouth open for so long when they said normal and heroic would be flexible AND cross realm. How amazing is that?! I'm really excited for Mythic raiding because it will mean the tuning will be really well done and they won't have to account for 15 more (or fewer) people. The new race models were beautiful, though I would have liked to see them present the female models at the same time (and not later). I'm looking forward to garrisons as well. I enjoyed my ship in SWTOR, being able to send out my crew for quests etc was amazing and I cannot wait to have this sort of thing in WoW.
I didn't care to stay seated for any other panels that were happening so we ended up walking the floor of the convention, marveling at how LONG the line was for Heroes of the Storm and taking in the scenery. We grabbed some lunch and walked around some more until the Apotheosis official meet up at the Meeting Stone.
It took some time, but the guild slowly trickled in and all of us together in our shirts looked so awesome. It was really great to see all our hard work (Chronis mostly) when everyone stood together for a photo. This was actually the only time where we were all in proximity of each other!
I think this is also where I got to meet Reesi! The Inc Bear folks decided to tag along during our Stone time so everyone got a chance to chat. I was pretty much hopping with excitement to meet her, and I don't really think I said a lot to her but if she ends up reading this then here is what I wanted to say; It's because of players like you that love your class and this game that make players like me want to be better. I wanted to be a bear tank because I saw you doing it and I figured, why not? So thank you! You may not know it but you made a huge impact on my game choices and the direction I took with playing this game, and I think it was for the better.
After our meetup, Chronis and I sat down with some fellas from the Computer History Museum. They're making a documentary about software that's changed the world and WoW was something they wanted to look at. I e-mailed the gentleman asking for people who would be interested in speaking about the game since I think Chronis and I have a good story about how we met (tip: Mount Hyjal raid). So we had a little interview and talked about ourselves and this game and we could be in a documentary in a few years!
Chloe Dykstra and Holly Conrad
Next up was walking some more and while we were wandering, Chronis stops me and says, "Hey! It's your people from that show!" And right in front of us were Chloe Dykstra (@skydart) and Holly Conrad (@commanderholly). I couldn't believe it! I ran up to them and asked if I might take a picture with them. They were very gracious and took the time to ask my name and we chatted about Heroes of Cosplay, how the convention was going and we got a picture taken.
Afterwards we headed over to the main stage to watch the costume and other contests. I loved seeing all the amazing cosplay but I didn't really care for any of the other stuff (sorry!).
With our time at the convention done for the day, Chronis and I made our way over to the Twisted Nether Blogcast party! I knew most of my guildmates would be at the Convert to Raid party (which I'm a little sad we didn't make it to) but we also knew that a lot of Business Time people would be at the TNB event. We made it to the bowling alley (TNB had the bar section reserved) bought some drink tickets and a couple loot bags and found BT. This was one of the highlights for me. Getting to talk about tank stuff with Vosskah (@Vosskah) and Rhidach was really great. I loved chatting with Antigen (@antigen) about Dark Shaman and how melee have ONE JOB and so many still fail at it.
I also had a lovely chat with Voss about Vidyala's (@_vidyala) badges. He mentioned that he thought my badge suited me, and that Vid really captured who I was and who my character was in this little painting. It was a beautiful thing, getting to share my appreciation of her work with her husband but I realized I never told HER. So Vid, I want you to know that I love this little badge painting. I'm going to frame it and keep it as long as I can because it means so much to me. I met people I didn't know beforehand because they had the same badges! Anyway, I think you did a beautiful job and your ought to be proud of all the hard work you did in getting these done. I can't really say enough about it, and an internet hug will have to suffice for now - but thank you.
We made our way back to the Hilton and I really don't remember a lot after this part. I do remember chatting with Hestiah (@hestiahdruid), and talking to random people about Mass Effect and Warlords. I also remember getting kicked out of the Hilton because it was so late! (And then being told I was very drunk. Which, I was.)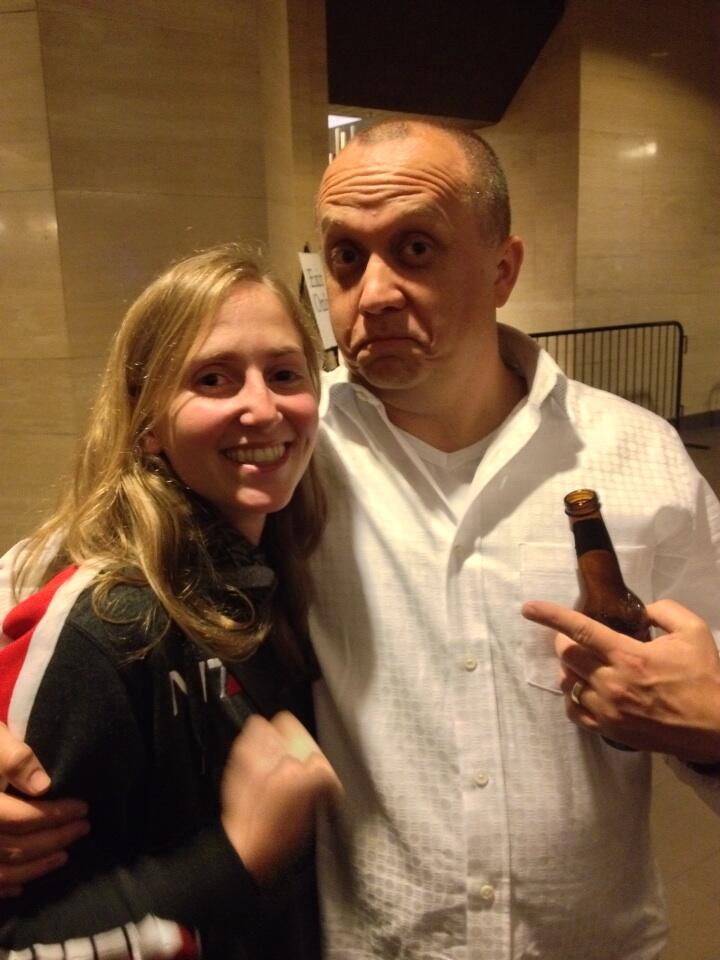 Met GC, but it looks like I'm gonna punch him.
I think the absolute best part about everyone crowding into the Hilton is that you can run into anyone! Apoth spotted Ghostcrawler and he posed for a few pictures with us. At one point I was walking with Serrath (@Serrath) to the washrooms and bumped into Kristin (@Kristin) and Hestiah so of course, we got a picture too.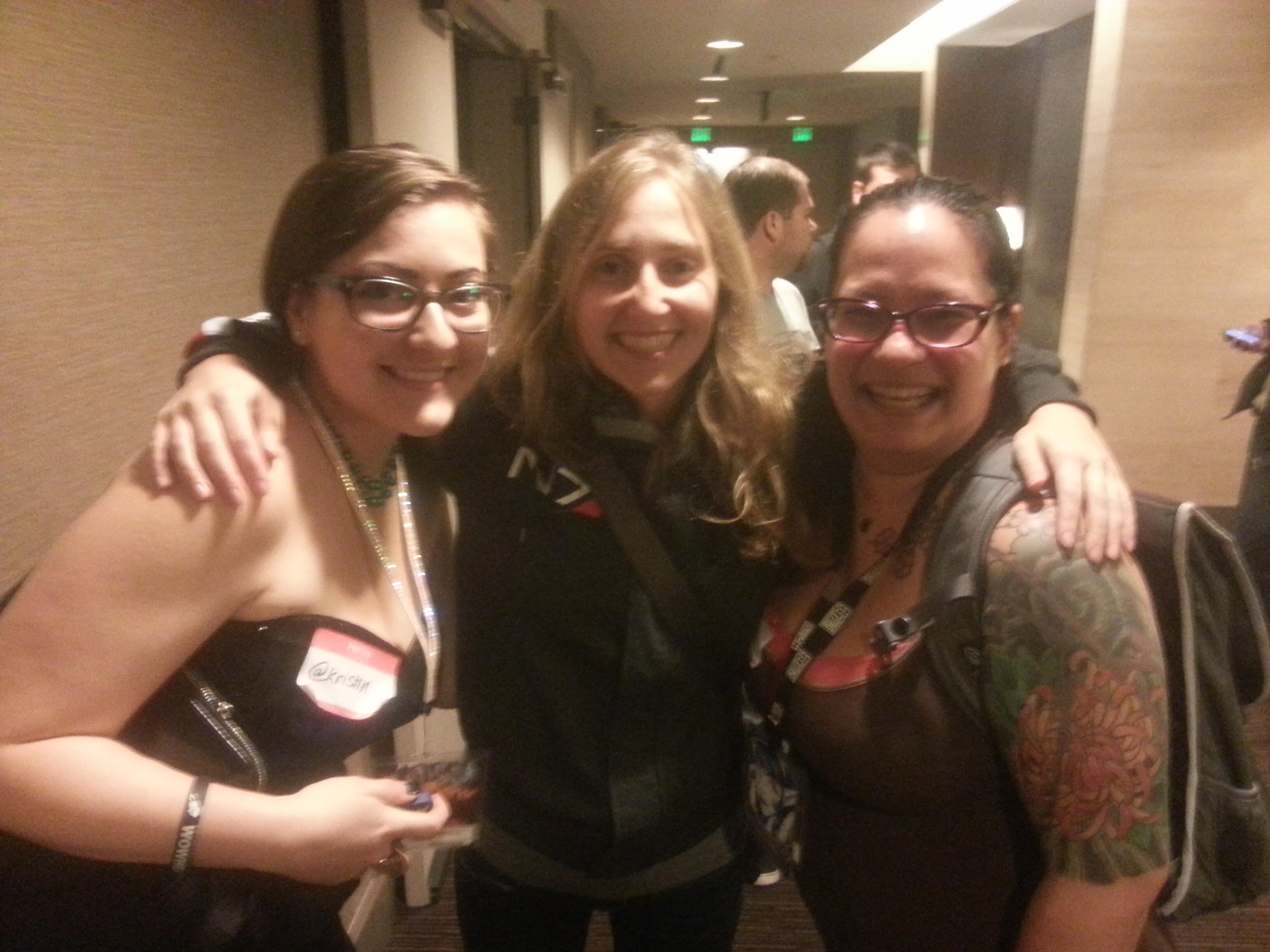 @kristin, myself and @hestiahdruid (Photo by @serrath)
Saturday - DAY TWO:
Final Boss wristband!
The second morning was a little more relaxed for us, and we made our way to the convention center to watch the live raid between Midwinter and Method. It was really exciting until Dark Shaman and I have to give Midwinter some credit for tanking the bosses together but for a speed run, you'd think they would take the safe route and just tank them separately - especially after wiping to them like, 8 times?
At one point, Reesi tweeted that she had some Final Boss wristbands so I whipped over to find her and grabbed some! We stayed for the 'systems panel' and learned a lot. The changes to raiding are so exciting - a static mythic raid size will let Blizzard balance and fine tune everything so much more. The changes to gear - swapping specs and boom, stat change - is amazing, I'm looking forward to clearing some of my druids bag space! I'm definitely going to have to go back and look at all the information they gave us because I do not remember everything!
And now, we really come to the most important part of this recap for me. A few days before BlizzCon, I found out that Jennifer Hale was
going to be there
! She voices Leah in Diablo 3, but I know her better as Commander Shepard from the Mass Effect trilogy. I can't really put into words how much I love that series, but let's just say it's a lot. Another important thing to mention is that Arielle also loves Mass Effect. I let him know that Ms Hale was going to be there and we decided that we would go to the D3 voice actor panel and get an autograph.
I sat through most of the WoW Movie Panel (terrible) before heading over to the VA stage. When I got there it was already so crowded I was worried we wouldn't get any seats at all. Luckily, Chronis and I spotted two open seats and he told me that once Arielle got there he would let him sit and then go walk around while we enjoyed the panel. Arielle came over and sat down with me and surprisingly the gentleman sitting next to us gave his seat up for Chronis!
The panel began and Arielle and I were so stoked to see Jennifer walk out on the stage! I wish I'd been able to get a decent photo of her up there, but we were pretty far back. I actually enjoyed the entire panel more than I thought I would. They had everyone there; the voice of Deckard, Leah, Tyrael, the Enchantress, Imperius, the Jeweler and a guy that voiced various monsters.
Check out this recording someone captured of each actor doing a quick bit with their character voice!
It was a really neat panel, and if they have more of them next time I definitely want to go - especially for the WoW voices! Once the panel was over, they opened up the time for autographs. Now, to give you an idea of how many people wanted to get autographs/see the panel, there was a little area with seats and then all around it was this gigantic line and even more people crowded around. They announced that the people who were seated would have priority for autographs. I looked at Arielle and I was like, Ok, we're good.
They brought up the rows one by one, and it seemed to be going really, really slow. And we noticed that there were people bringing like, 5-6 things that they wanted each actor to sign! We started getting nervous. The line was moving so slow now and we were still seated. The Blizz employees started telling people that they could pick one extra thing to be signed (we were given posters that could be signed if you didn't have anything). The time is ticking down, 15 minutes left... 10 minutes left... 5 minutes left...We finally are picked to get in line, and the guy helping to usher people says to us, "You're lucky. You guys are the last to go up."
This panel is clearly going over time, and people are getting upset. The usher fella is getting angry ladies and dudes coming up to him and we're so close to the stage I could practically touch the voice actors. We get up to the front and this Blizz guy hands me a poster and says, "Sorry".
What?
Sorry, we have to cut the line off here.
My heart sank. You're joking, we were told that we were the last ones! I look at Arielle and he's just as disappointed as I am. So I'm thinking, well, this was my idea and I'm not leaving until we see Jennifer Hale. I find the guy with the earpiece who was ushering people and ask him if there's any way that we could get just her to sign something for us? I don't know if it was just because I was really polite or what, but he said, "Ok. Give me 5 minutes and meet me on the other side of the booth."
We hurry over to the other side and we wait... and a couple other people see us waiting and stand with us talking about Jennifer and how they only wanted to see her as well. I wanted them to go away because I didn't want these random dudes thinking they could piggyback on my request! The Blizz guy finally comes out and walks over and he says, "Just you." Right away I'm like OK! Except I was leaving Arielle behind! Nooooo! I wasn't about to mess with the opportunity I'd been given but I was so torn between this elation and feeling really bad.
I passed through the curtains they had set up, and I saw her quickly and she waved at me but said they needed to do a group photo and she'd be right back. I got to chat with the Blizz guy (his name was Chad - so hi Chad!) and he told me about how he worked in QA doing stuff for the battle.net and support sites. It was really cool getting to talk to him because he obviously loved his job as much as I love the games they produce.
Jennifer came back and Chad introduced me and she thought at first I worked for Blizzard or something but then I was like, "No I'm just a HUGE fan with really good luck today". She asked me how the con was going, and asked about what I did for a living - so then of course I explained that I work for an environmental consulting company and she got really excited and asked about water sampling and the kind of work I did, so I totally got to geek out to Jennifer Hale about my JOB (WHAT?!). She asked if I'd gotten anything signed and I explained that no, we were cut off in the line and she offered to sign the poster they gave me BUT being the keener I am, I pulled out a print that Chronis printed for me.
She asked if I made it but I laughed and said I'm not that talented, and she signed it for me! I asked if I might be able to get a picture with her and she was so gracious and we got Chad (THANK YOUUUU) to take a couple photos.
Panser aka Trade Chat
After meeting Jennifer and saying goodbye to Arielle, we didn't really have anything else we wanted to see so we left the convention and on the way out I saw Panser! I stopped her quickly and got a picture with her too. I ended up fangirling over her and blurted out that I loved her youtube videos and WoWInsider recaps.
The last scheduled engagement we had was dinner at Buca di Beppos with Hamlet, Perculia, Hestiah, Ilaniel, Sara, Mike and Esoth! We were exhausted so we weren't too talkative, but I enjoyed getting to relax and eat a proper meal for once this weekend. I'm glad we got to go, it was really nice seeing everyone and the food was delicious!
Unfortunately, we had a very early flight out of LAX so we briefly stopped in at the Hilton to say our goodbyes (and I still had to buy Arielle that dang drink). We met up with a few of our guildmates and enjoyed the last few hours with everyone before we had to say our goodbyes.
N7 buddies for LIFE




I had an absolute blast at this year's BlizzCon. I love that I never felt out of place. The love of these games wasn't seen as something weird or something that needed extra explanations. I wore my N7 sweater every day and I got comments on it and people came up to talk to me because of it and that never happens outside of events like this! I love that we had people ask about our guild shirts and it was an amazing feeling to finally see everyone in them. I love the energy of the place when Metzen gets on stage during the opening ceremonies. I love that we see CMs and Devs just walking around and hanging out. I can't express how amazing it was to meet new people and see my guildmates again. The interactions between everyone on Twitter mean a little more now, and without Twitter I never would have met half of the people I did. I can't wait for the next 'Con and I hope that I'll see you all there!